A little bit about ourselves
B&B Weisser Stein will exist (on 7 June 2023) for 1 year!
We are Ger Buiting and Sabine Otten. For a number of years we had the dream to start a Bed & Breakfast in a beautiful, quiet mountainous area. In October 2021 came Hotel-Garni Weisser Stein in the beautiful Sauerland to our minds. (A Hotel-Garni is actually the same as a Bed & Breakfast.) The building, the location and the possibilities were very appealing to us, so we decided to take on the adventure. Early June 2022 was the day! Everything was arranged and we could start running our own B&B. Step by step we are improving the building and the rooms and we are making the B&B our own.
We like to give our guests a good time in our B&B.
Ger & Sabine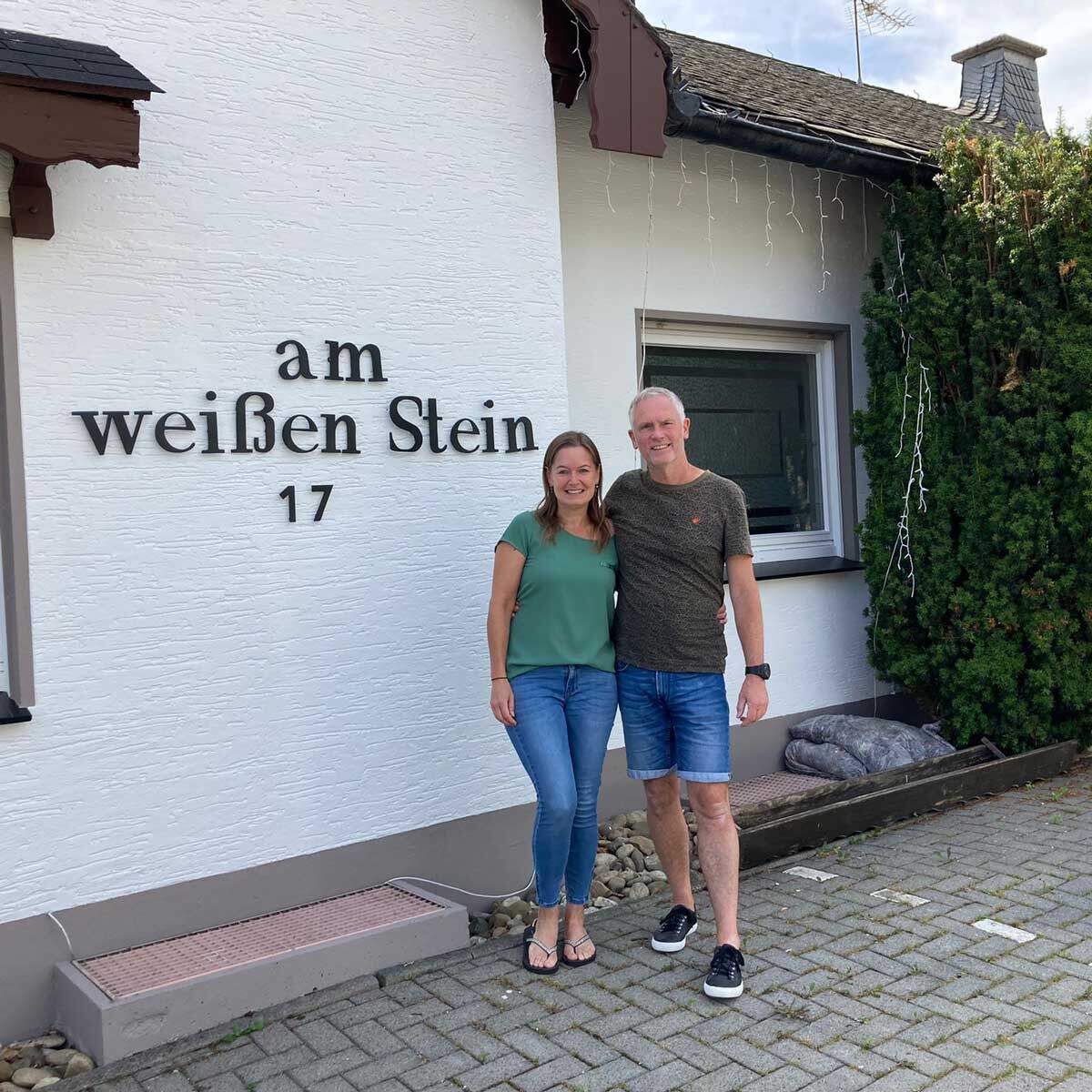 Double rooms
1 night: from € 76,- per night/room (including breakfast, excluding tourist tax of € 2,- per person/night)
2 or more nights: from € 68,- per night/room (including breakfast, excluding tourist tax of € 2 per person/night)
Packed lunch €7,50 per person
Free cancellation up to 5 days before arrival
Check-in between 15:00 and 18:00
Check out till 11.00 o'clock
Pets are not allowed
Parkingplace available, for free
Wifi available, free of charge
Garage for storing bicycles/motorcycles, this service is free of charge
Discover the beautiful surroundings
Bed & Breakfast Weisser Stein is situated on the quiet southern slopes and offers a panoramic view of the surrounding countryside of the Rothaar mountains.
For mountain bikers
Green Hill Bike Park: 14 lines and a lift! With no less than 14 lines, the new Green Hill Bike Park in Schmallenberg, Sauerland, wants to attract bikers right away. From flowing trails to get you started to thick lines full of jumps marked as black trails.
Claus-Jürgen und Helga Selig
Hospitality is written in capital letters here
On the day of arrival, we were kindly welcomed by Sabine, the owner, and given our room. We stayed in the house for 2 nights and felt at home. The room was lovingly furnished and clean and lacked nothing. In the morning, the owner greeted us in a friendly manner in the breakfast room and a rich breakfast buffet awaited us where there was something for everyone. We felt like at home. We would like to be your guests again on our next visit. Good accommodation at a good price. Parking spaces are right in front of the entrance. Thank you both very much.
John
Well-run weekend with a group of divers in a nice B&B. Rooms and breakfast were very good. In the community room equipped with all conveniences. It was nice chatting about the dives.
Flip and Marij
We stayed for 3 nights with Sabine and Ger, who welcomed us hospitably.
The rooms are spacious and super clean,
good beds and with a beautiful view.
Beautiful surroundings and plenty of walking opportunities.
Breakfast was extensive and delicious.
We would love to come back again!
Jacob (Denmark)
Really sweet host couple who themselves live on the property
Everything was just so nice. Nothing to put your finger on. Also a delicious breakfast
Gerard
Very friendly hosts, lovely spacious rooms, very nice beds and nice warm, firm shower. Excellent breakfast, nice and fresh and ample. Beautiful surroundings. Highly recommended.
Karin
Lovely B&B in a fantastic spot with beautiful views. Breakfast is very well taken care of. Sabine and Ger are committed hosts with great attention to the guests.
Thanks for the good care and tips for the area. We will definitely come back.
Cor & Irene
We stayed here this weekend. Super well liked. Nice place and nice B&B owners. Rooms are clean and location is a good base for e.g. skiing in Winterberg. Bad Fredeburg would have few restaurants but Ger and Sabine sent us to a good restaurant Keglerklause (they even made reservations for us by phone). We enjoyed ourselves and would definitely like to come back again.
Reviews on Booking.com
Reviewed on Booking.com with an average rating of 8.71 (in the period from 7 June 2022, the day we started, up to 24 October 2023) 101 reviews.
Reviewed on HotelSpecials.nl with an average rating of 8.99 (in the period from 7 June 2022, the day we started, up to 16 October 2023) 9 reviews.
Lana & Bart
There were 6 of us here top prices for how long we stayed. Very sweet and friendly owners are immediately at your service if you have any questions.
Breakfast was fine and well organised, bedrooms looked incredibly clean and beds were good.
All in all, we will definitely come back here next year.
Kind regards,
Lana, Bart, Mariska, Pedro, Thomas and Wilco
Christoph
The hosts are very friendly and really go out of their way! We were there to explore the Hochsauerland by motorbike, the location is just perfect. The breakfast is more than sufficient and highly recommended. We will definitely be back.
Erwin de Graeve
This B&B is run by the enthusiastic Dutchmen Ger and Sabine. They have received this B&B since June and with great passion and care for their guests. Rooms are spacious and clean, breakfast tasty. Nice villages nearby and beautiful nature. Recommended.
Hans en Ingeborg
Great stay, super clean and the enthusiasm of the new owners spreads to the guests. Room with a comfortable bed and a comfortable seat. Bathroom spotless and functional. And then breakfast: a treat every morning because everything is fresh. Top! Information about the area is widely available. Ger and Sabine, you have made a great start and great plans for the future.
V8 C5 Corvette
We were there from Saturday to Sunday. Nicely located with a great view. The landlords welcomed us personally and warmly, super nice. We immediately felt comfortable. Room great, nice and quiet. Breakfast buffet left nothing to be desired. Highly Recommended!
Eric van der Weijde
Very friendly and helpful host, spacious and clean rooms . Very nice area, definitely a reason to come back.
Contact
Bed & Breakfast Weisser Stein
Am Weissen Stein 17
57392 Bad Fredeburg
+49 2974-487
Would you like to book or do you have a question?
Please contact us using the form below.
We will contact you as soon as possible!